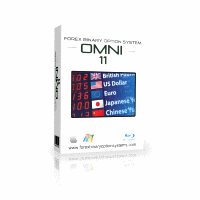 OMNI11 Is Obliterating EURUSD – Track Record Updated
OMNI11 Is Obliterating EURUSD – Track Record Updated
OMNI11 Is Killing It on the EURUSD. We even surprised ourselves
how strong and consistent this system has been. It's just always
good to see our creations continue to blossom.
Yes, on that note just to let you know – this is a totally proprietary system.
In my 20 years of trading systems study no one has invented
the concept in this system that I have. It is extremely powerful
and solid, solid for long term trading (the markets simply
can not deviate from these price rules…)
OMNI11 is our PRO Binary Options system for trading Forex,
particularly the EURUSD. It has been doing very well.
If you are considering a rock solid binary options
system and want to go full time pro then due some diligence,
read the page, ask us your questions and hit it! Get it.
Attack it. Learn it FAST and implement FAST so you ABSORB
the system and get it 'in your system' so you 'own it'.
Practice will increase your believe in the system minute by minute.
We've gotten a lot of good feed back from customers on this
system. Some of them were shocked that something actually
worked and even more surprised that something actually worked
in Forex! (i guess after all of those 'robots' they went through)
So you can feel better about buying the system.
Anyways money can go fast trading when you don't know
what you are doing. Why not 'flip the table', 'get on the
right side of the tracks' and start to trade in a winning
way that has stood the test of time? Invest in the system
instead of 'investing' your funds in the markets with nothing
to show for…
OMNI11 Is Obliterating EURUSD – Track Record Updated