NADEX 2 Hour Expiration Binary Options System Provides an Extremely Powerful Approach for Utter NADEX Domination.
Remember that the "2 Hour" NADEX Binaries Can Be Traded as 1 Hour Binaries or  You Can Enter at Any Time Between for Great Deltas, Great Reward to Risk Rations Giving You Huge Return Opportunities Multiple Times Per Day
Get Much BETTER Opportunities with DZ13 ii Because of the Entry Mechanism that Allows for Best Sweet Spot Entry Opportunities so You Can More Easily and More Frequently Capture Larger Momentum Moves or Simply Trigger from Out of the Money in to In The Money Where You Can Expire for the Full Profit
DZ13 ii Ultra NADEX 2 Hour Expiration Binary Options System – What it Can Do:
Trade DZ13 ii Ultra  On the NADEX 2 hour binary options – 1 hour options at any time they are open for profit opportunities during active markets or even in the dead zone.
Have some the best setups for taking advantage of momentum follow-through so you can ride an out-of-the-money position up the NADEX options chain and cash out early:  ie turn $150 into $900 take the money and run..
DZ13 ii Ultra gives you the types of profit opportunities for you to strategically go for home runs. That means look to take it out of the money position with a little bit more of an aggressive position size and ride that on up the chain. i.e. Turn $1000 into $6000 in one trade.  Turn $10,000 into $60,000 in one trade with multiple opportunities per day and night to do something similar.
You can also trade for home runs by simply entering at the DZ13 ii Ultra entry point which gives you a fantastic opportunity to capture extra price action mileage – and then simply look expire your position in the money. There is tremendous opportunity with NADEX binary options in this regard along with DZ13 ii Ultra.   So you can take a position:  Buy at 15 then have the Forex pair or stock index move up a moderate amount and time into expiration.
You can also use DZ13 ii Ultra NADEX 2 Hour Expiration Binary Options System as a method of capturing profits on the 2-hour right near expiration since the point of entry gives you a very good advantage point.
And of course you can use DZ13 ii Ultra NADEX 2 Hour Expiration Binary Options System as a system just looking to take each trait as it comes up. Due to the mechanism you can use the system in an optimized Way by taking the next strike out of the money. Or are you can take advantage of the extra price action mileage you can get on average and look to let the math of the risk reward to reward ratio while expiring for the full gain it the money looking to net out profit that way.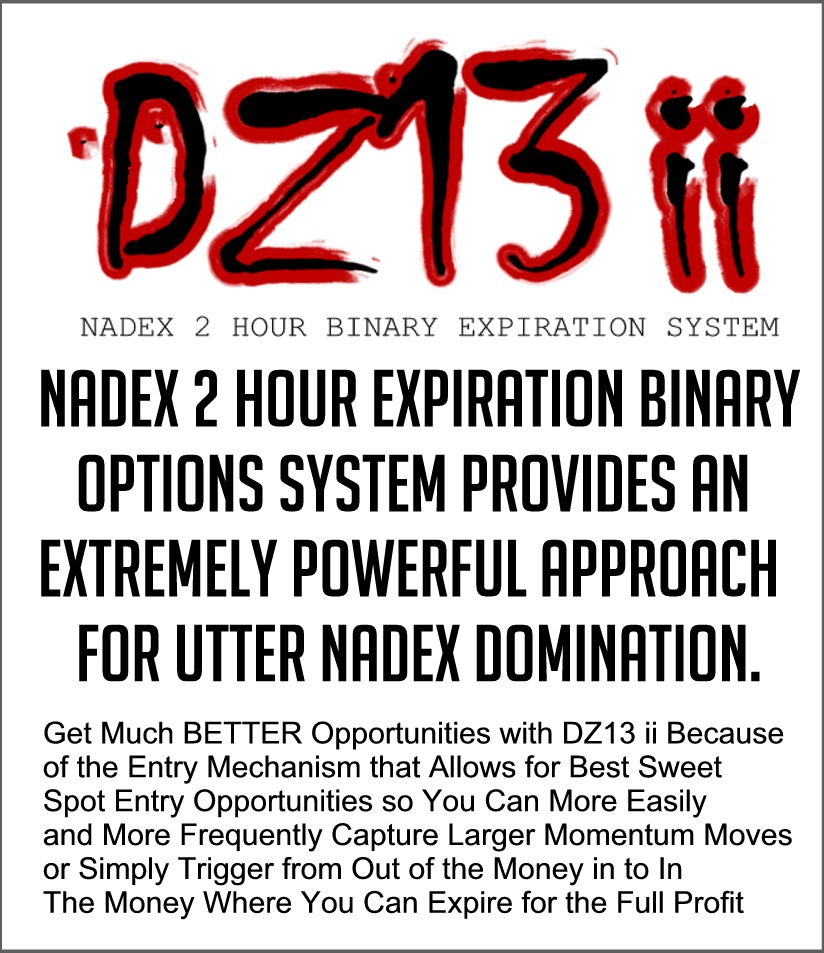 $4997