Forex Binary Options Are the Easy Way to Trade in the World of Currencies
In this guest post provided by Tom Cleveland of ForexTraders.com, he outlines the reasons why forex binary options are gaining in popularity in today's "fast and furious" forex trading community.
Trading foreign currencies has reached new highs in popularity in recent years, due primarily to its flexibility and ease of access, if countless articles on the topic are to be believed.  On the other hand, if recent marketing campaigns are any measure of this new reality, then it must be so, since it is extremely difficult to navigate the web these days without being bombarded by numerous ads from forex brokers courting our patronage.  Within the world of forex, however, there is one sector that is taking flexibility to a new level, and that is the field of forex binary options.
Many newcomers to foreign exchange recoil from the depth of understanding and the level of commitment required that experienced traders insist are necessary for success.  Impatience tends to overtake beginners early on, and the resultant casualties soar as high as 65% by some reports.  Classes, online tutorials, and active workshops given freely by most brokers have not reduced these statistics to a significant degree, but the industry always seems to respond with a new twist to make things easier and less cumbersome.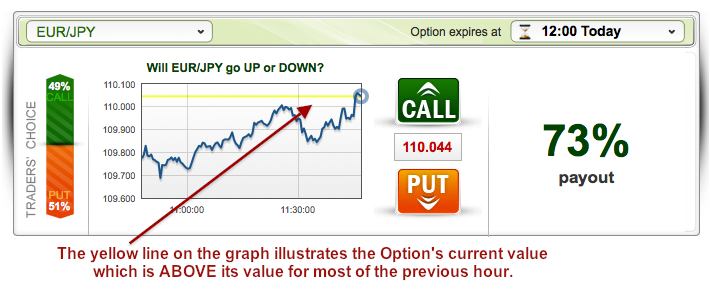 The latest "twist" is the binary option, a trading vehicle that dispenses with much of the headache of trading when it comes to risk and money management, two techniques where neophytes tend to fail miserably.  You fix your variables at the outset, and then guess the direction that prices will go in a specific time frame, based on whatever system you have devised for that purpose.  You know your payout and loss potential, and some brokers even allow you to extend the time limit or "double-down" if you believe that the odds are in your favor.  The screenshot below illustrates ease of use:

Trading platforms in this genre tend to be proprietary to encompass the nuances of this trading vehicle.  The diagram above is typical for the simplest form of binary option, in this case for the "EUR JPY" currency pair, but it could have just as easily been for the "USD CAD" combination.  Brokers in this arena generally offer a broad mix of currency pairs, commodities, stocks, and indices to choose from, but the objective is the same – you put a fixed amount of capital at risk for a set time limit with a predetermined payout percentage.
In the example above, you must decide if the Euro will strengthen or weaken versus the Yen before twelve o'clock.  The sentiment of existing traders is shown to the left as a guide, along with the pricing chart for the previous hour.  It would also behoove you to have a separate pricing chart with technical indicators and Fibonacci support and resistance levels to guide your thinking, as additional input.  Trading in currencies is high risk.  Assessing the odds remains your responsibility.
Why are forex binary options a simpler approach?  Here is a quick recap:
No need for stop-loss orders;
Your potential loss is based on the amount you decide to risk;
No risk of margin calls;
No risk of being "stopped out" by market volatility;
The payoff is fixed (73% in the above example).
These options have also been referred to as "digital" or "all-or-nothing" options, and many brokers offer a variety of different types.  These alternatives may go by the name of "barrier", "one-touch", "no-touch", or even "double-touch", in which case you must guess if a specific price level will be penetrated or "touched" within the time allowed.
Demo systems are available, too, making binary options a valuable tool worthy of your consideration.