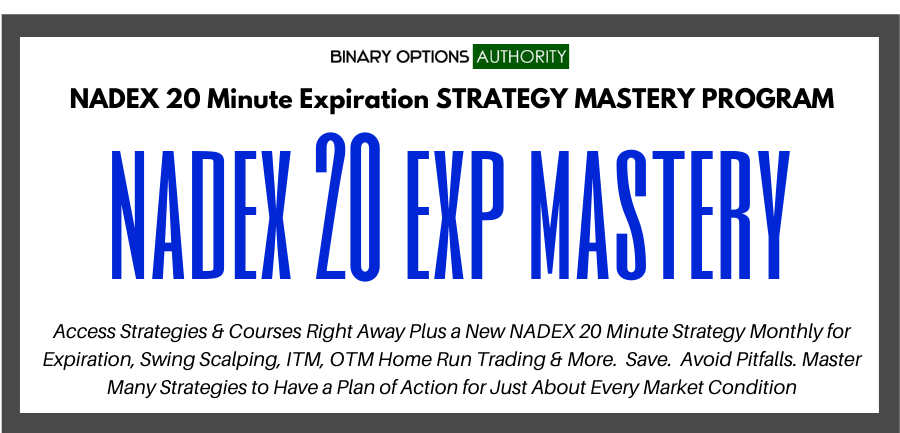 Why the NADEX 20 Minute Expiration MASTERY Coaching Program versus the main Binary Options MASTERY coaching program?
First of all our Binary Options MASTERY – Super Strategy Trader Mastery Coaching Program Membership kicks tail! If you're really looking to make a turn around or purposefully and methodically become a great trader you'll certainly want to be in this program as we advance layer by layer overtime and as you learn the fundamentals and how to implement them for becoming a top-level trader.
Also over time we're going to introduce new breakthroughs through these memberships and you get first dibs at a fraction of the price of buying individually or some strategies we simply would not release formally.
Sign-up and lock in your rate as membership prices will increase over time as members progress.
But we know how it goes with trading: you like what you like and if you have the main focus of your trading being on the nadex 20 minute expiration then you're going to want to focus only on strategies related to that.
Well in the main program we're going to cover all sorts of different strategies that may include some 20-minute expiration strategies but it's not focused on the 20-minute expiration because we will also be looking at different expirations and spreads as well. So in this NADEX 20 Minute Expiration MASTERY Coaching Program we will be focused on the 20-minute expiration only so if that's the expiration you want to conquer then join this program!  Get started now.