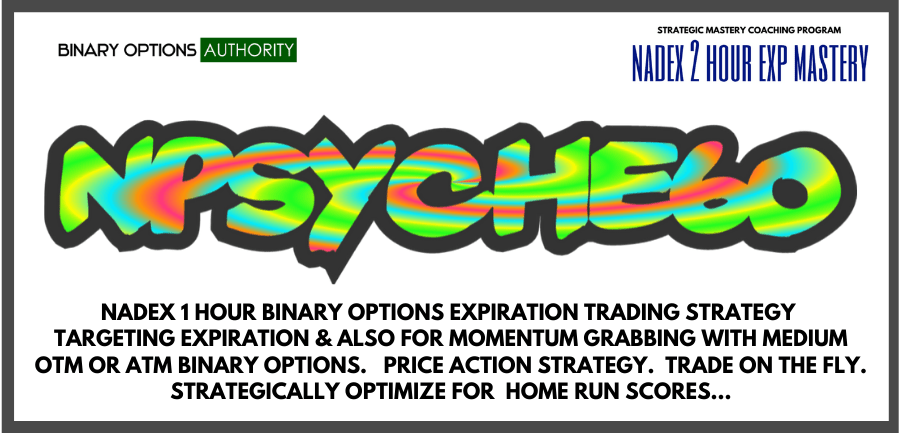 Why Trade the NPSYCHE60 NADEX 2 Hour Exp Strategy & System?
It's a Stable, Solid, Easy to Trade Approach for the NADEX 1 Hour till Expiration Binary Options that Could Quite Possibly be that Way that Clicks for You if Your Looking for a Way to Make a Living from the Markets.
Yes You Could Even Use for Spreads. The Strategy Makes a Lot of Market Place Sense Too. And Maybe You Could Work Your Way up to $20,000 a Week Weekly Paychecks – See System Performance Sample Below…
Look Ma! No Hands! Learn to Trade PURE Price Action – Impress All Your Friends Including Your Ma'!
All you need to do is look at a price chart and you'll now know what to do.
YM 3 MIN BARS NPSYCHE60 Performance Sample:
Easy to trade

Trade on the fly

Trade as a system

or Trade as a Strategy whenever you want

1 Hour / 2 Hour NADEX binaries although we target the 1 hour left to expiration

Potential to trade for a robust living.

Nice easy pace trading these 3 min bars

Opportunities are easy to spot.

Performance sample is taken when NPSYCHE60 is run as a system meaning taking every set up in a row without optimization.
NPSYCHE60
WWLWWLWWLWWWWW
3 L 11 W
8 W NET
FEB 19
NPSYCHE60
WWWWLLWWWWWLLWWWW
4 L 13 W
FEB 18
NPSYCHE60
WLWWWWWLLWWLWWW
4 L 11 W
NET 7
FEB 14
NPSYCHE60
WLWLWWWWWWWLWWWWW
3 L 14 W
NET 10
FEB 13
NPSYCHE60
WLWWLWWLWWLWWLLWLL
8 L 10 W
FEB 12
NPSYCHE60
WWWLLWWWLWLWWLWWWW
5 L 13 W
NET 8
NET ON ALL DAYS: 72 WINS 27 L = NET 35 IN 6 DAYS – 10 CONTRACTS = $22,500 NET Profit 1 Week 1 Day Paycheck
$1997