NADEX DXX NADEX 20 Minute Binary Options System
$4,833.33 A Day Average Systems Results on 10 Contracts Shooting for Expiration trading only 3 Hours a Day!
Welcome to the NADEX DXX 20 minute binary options system.  This is a NADEX system to trade the 20-minute binary options.  Now what the system does is that we look to trade to expiration on the 20 min binaries, yes expire In The Money for the full 100% gain.
We trade the Russell 2000 the "US Small Caps 2000" on NADEX.  You can trade whatever you want.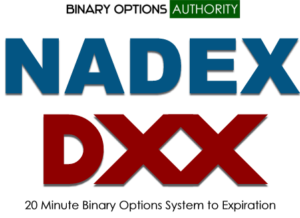 What is this NADEX DXX NADEX 20 Minute Binary Options System  Exactly?
Trades 20 min NADEX binary expiration

The results are for 3 hours a day 10 – 1 pm eastern.
You can trade for 1 hour a day if you wanted.
You can trade for 1/2 hour a day if you wanted. to
Or you can trade all day.
This is a more active system. You'll need to practice it a bit and tweak your NADEX settings for speed.  That said it's not that fast.
This is a system which means we simply take all the trades like a cave man (a cave man that is not distracted by social media or cell phones…)
Study, practice historically then a demo then start small – then you could learn this system quickly.  It's very clear and on the simple side.
Some entries you'll probably have slippage some you'll get a better entry as the underlying pulls back after trigger, so one could say that it is a wash.

We target expiration on this one.

We simply use At the Money binary options for an average of 100/100 risk to reward ratio which is still much better than the 70/100 reward to risk ratio. That said when in doubt favor the slightly ITM with this system and you should crush it.


Results below timed to the 20 minute cycle

This is not software this is a home study course that teaches you the system and how to trade it.

We've been around this binary options thing well pretty much since the start – this is a solid price action mechanism based system – it's simple to trade, fun even and you'll probably really like it especially if you're able to bank anywhere near the systems results below; I'm sure you would agree!

Combine DXX with DXY for mind blowing potential!
On Russell 2000 futures.  20 minute binary options on NADEX.
All trades to expiration.  All entries are "At the Money" (which is really "near the money").  And in this case to represent,  we use 10 contracts with 100% return if won and 100% return if lost to provide that rough average between lightly OTM vs slightly ITM entries.
Systems Results Sample:
W

L

NET on 10 Contracts

AUG 3RD

LWLLLWWWWWWLWLWWWWLLLWLWWLWLWWLLWWWWWL

23

15

$4,000.00

LLWLWLLWWLWWLWLWWWLLWLWWLWWWLW

17

13

$2,000.00

WLWWLWWWWLWWWLWLWWLWWWWWLWLLLWWWWWWLLWWWW

29

12

$8,500.00

$14,500.00

Daily Average

$4,833.33
More Tracks 2019
| | | | | | | | | | |
| --- | --- | --- | --- | --- | --- | --- | --- | --- | --- |
| | | | | | | W | L | Net | Totals |
| DXX – RTY AUG 14 | WLWLWWLWLWWWWWLWWWLWWWWLWWWWWWWWLLLLLWW | | | | | 27 | 13 | 14 | $ 6,300.00 |
| 19-Aug | LWWWLWWWWWWWWWWWLLWWWWLWLWWWWLW = 24 W 7 L NET 17 | | | | | 24 | 7 | 17 | $ 7,650.00 |
| | WWLWWLWLLWWWLWLLWWLWWWWWWWWLWLWLWW | | | | | 23 | 11 | 12 | $ 5,400.00 |
| | US TECH 100 | | | | | | | | |
| DXX: 20's Aug 14 – NQ | WLWLLWLLLLWWLWWWWWLWWLWWWWWWWWWWWW | | | | | 25 | 10 | 15 | $ 6,750.00 |
| | LLLLWWLWWLWWWWLWLWWWWLLWWWWWWLWWWLWWW | | | | | 26 | 12 | 14 | $ 6,300.00 |
| | LWWLLWWLWWWWLWWLLWWWWWWWWWLWWWLWW | | | | | 25 | 9 | 16 | $ 7,200.00 |
| | | | | | | | | | |
| | | | | | Totals | 150 | 62 | 88 | $ 39,600.00 |
| | | | | | | | | Daily Average 10 Cts | $ 4,950.00 |
$4997 Launch Price $1997