So that's right – only 1 hour max total trade time broken into two 1/2 hour periods.
One Month Systems Results – based on the exact entry rules you get with this course.
What is this?
Ingot is a starter level system designed to give you a way for potentially making money monthly
$12,200 a month systems results based off $500 per trade based on traditional binaries with a 70% payout.
Trade Forex binary options.
Adaptable to work with NADEX
Originally designed for 30 minute traditional binaries. You can use on NADEX 20's or 2 hour/1 Hour binaries
This is a home study course in video. Not an 'indicator' or 'software'. Learn the system, learn a skill for life.
Details for Binary Options System Ingot Performance: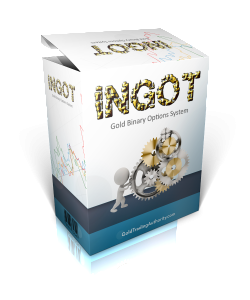 $297 – starter system entry price. For perspective: So if you were trading $100 a trade the systems results average for the month would be $2,400. If you were trading $1000 positions the systems results would have netted $24,400.
This is a solid trade mechanism set up used here on Ingot. So if you were able to duplicate these systems results month after month $24,400 income is pretty dang sweet.
You can have this for $297 right now. Click the Add to Cart: