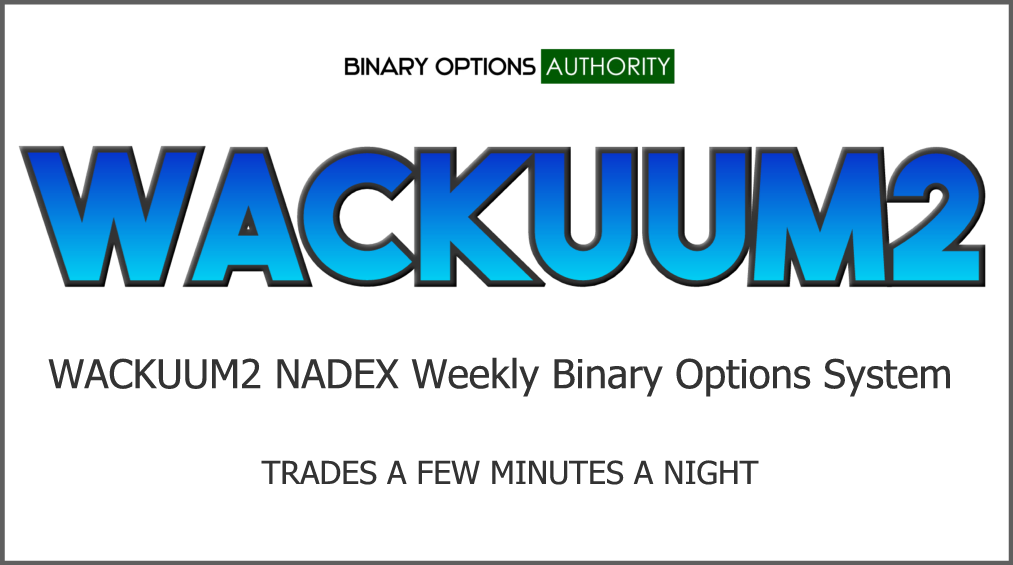 WACKUUM2 NADEX Weekly Binary Options System
WACKUUM2 NADEX Weekly Binary Options System trades NADEX weekly binary options and just a few minutes a day.
The few minutes you do spend simply looking to see if you have an order. That's all you need to do.
You don't even need to watch the markets even though NADEX does not have contingent orders like vanilla options.

WACKUUM2 NADEX Weekly Binary Options System is a new way to get extraordinary numbers of profit points on the underlying asset which in this case would be the Russell 2000 or the US small cap 2000 although we do a little trick in order to determine our entries in a little bit more easy way.
Below you see the number of profit points accumulated in the underlying asset. What you do is simply, instead of plan the underlying asset we just put on a weekly binary option. Of course with NADEX we just enter within the cycle of the weekly binary option let the markets do its thing. Sometimes we can capture momentum and ride and get out early or are the times we just simply get past at the money and ride into expiration.
This is a very easy and creative way to trade the NADEX weekly binary options. Managing this opportunity and master the system while it's still available. Click add to cart below to get started.
Performance Sample: October 2018  (3 Months - Huge Profits for Only 3 Months...)
+82
-20
+55
+5
-20
+36
+18
+72
-4
+8
-20
+7
-7
-5
-10
-12
-41
-26
+141
+143
+82
+43
to Jan 1 2019= +475 Profit Points
On US Small Cap 2000 which is ridiculously incredible, that you can use to translate into potentially massive NADEX Weekly Binary Options Points in just a 2 to 5 minutes a day or less when there is no order to place.

Ride the momentum and cash out or just expire In The MONEY

Learn how to "trail stop" out your weekly NADEX binary options profits

Potential for a lot of cash flow that one could do on the side or as a "full time" (5 minutes a night) trading business.

If you are super busy, then you may like this system .  It's super easy to trade.

Start small and build.  Let the system prove it's self to you!

Take advantage of very large opportunities in NADEX weekly binary options that not many talk about.

Trades OTM out-of-the-money NADEX weekly binary options which means that you have the potential to make up to 1000% returns trade (i.e. buy at 10 and then expire ITM for the full 100 profit). If you don't know NADEX, that's just how it works and it's not an exaggeration.

Use to trade vanilla cash index options on Russell 2000 or other cash index.    You can use for futures swing trading too.

Part time potential for trading the markets on the side.

WACKUUM2 NADEX Weekly Binary Options System Can be treated as a strategy or a system although we present this as a system which means that way you look to take all the trades and not try to pick and choose what's best.