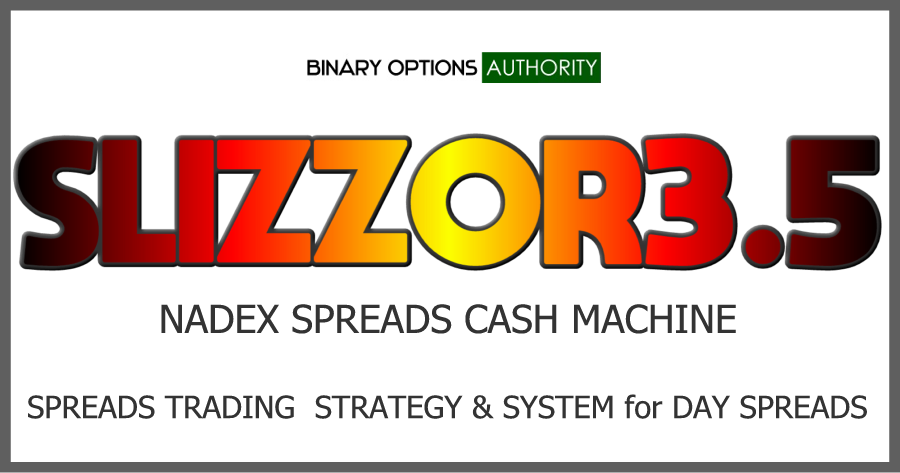 SLIZZOR3.5 NADEX Spreads Trading System & Strategy - a Daily Paychecks Trading System for Daily Cash Flow
NEW System Using NADEX Spreads which Are GREAT for Day Trading Providing You Near 100% to 100% Delta Options with Low Money Required to Trade for the Potential to Make FORTUNES!
Use SLIZZOR3.5 NADEX Spreads Trading System as a Solid Approach for Potentially Ramping Up an Account Quickly
Spread trading at NADEX is an overlooked very powerful way to trade. What it does is that it essentially gives you near 100% to 100% deltas on your options trading. You can't get that  without going super deep in the money with vanilla options. Additionally with vanilla options you have premium decay and you have very large spreads usually between the bid and ask. This is not much of an issue at all at NADEX with it spreads and knockouts.
Additionally since NADEX trades upon instruments that can put in a lot of price point , you have the potential to make extraordinary amounts of money on a day-trading basis without having to put up that much  money in order to trade.
This is a video home study course that teaches you the secrets of the system. We teach you the exact entry and exit rules for being able to capture up excellent amounts  of cash flow profit points.
Grow your trading position size as your account grows and watch your cash flow swell. 
This method trades 5-minute bar so we go for a bit bigger intraday moves  while also making this approach to trade him a bit more laid-back than some of our more extra active systems. This sets a good slow and even Pace throughout the day.
Check out the performance example below and you can see the power of SLIZZOR3.5 NADEX Spreads trading system.  We have become big fans of NADEX Knockouts especially for day trading because there's almost no premium puff expense and the bid-ask spreads have been really good pretty much giving us 100% Delta's right away. That is absolutely huge when trading the indices or any other instrument for that matter with the NADEX Knockouts which used to be called NADEX touch brackets.  And trading NADEX Knockouts or spreads (and a knockout is a technically a NADEX "Spread") can replace the very expensive cash index options which have a lot of rapidly decaying premium and large bid ask spreads, in addition to a large expense per position as opposed to NADEX Knockouts and Spreads.
But as you can see from the performance example below you're looking at about $35,000 profit on 10 contracts over 6 days. 10 contracts is not that much and as your account grows you can grow your contract number. Just think if you were trading 100 contracts that 6 days of profit could have been $350,000.
I think the terminology of spreads, Knockouts in touch brackets just simply confuse people. It seems like this mysterious thing but it's really not. It actually it's easier in concept and to trade then regular Forex and futures,  stocks too. 
SLIZZOR Core 3.5 Systems Performance
NQ:
52+10+6+6-5 =+69 Aug 22

30+38-8+32+12+18 =+122 Aug 23

10+19+11+2-5 =37 Aug 26

25+12+5+11+9 =+62 Aug 27

21+20+4+1-5 = +41 Aug 28

3+4+6+6 = +19 Aug 29
Total for 6 days of trading: 69 + 122 + 37 +  62 + 41 + 19 = +350 Which is about $14,000 on 10 of NQ, on RTY 350 points would be $35,000 contracts especially when trading the NADEX knockouts which have almost no premium puff and tight spreads giving you a pretty much instant 100% delta, moving tick for tick with the stock.  This replaces index options and index futures at the same time. 
SLIZZOR3.5 TURBO These are Extra Points that You Add on Top of SLIZZOR3.5 Core System
82+11+4-5+2+9+8+6 = +117 Aug 22

112-32+8 = +88 Aug 23

+9-10+9+4+6=+18 Aug 26

5+21-10+3+12-5 =+26 Aug 27

3+4+6+6 = +19 Aug 28

32+6 = +38 Aug 29
117+88+18+26+19+38 = +306 extra profit points.  So on 10 contracts that would be an extra $12,240 on NQ and $30,600 with US Small Cap 2000 in 6 days.   Combined is +656 points for $65,600 on 10 contracts for 6 days in this systems resutls performance sample.