NPSYCHE60 NADEX 2 Hour Expiration System & Strategy – Digi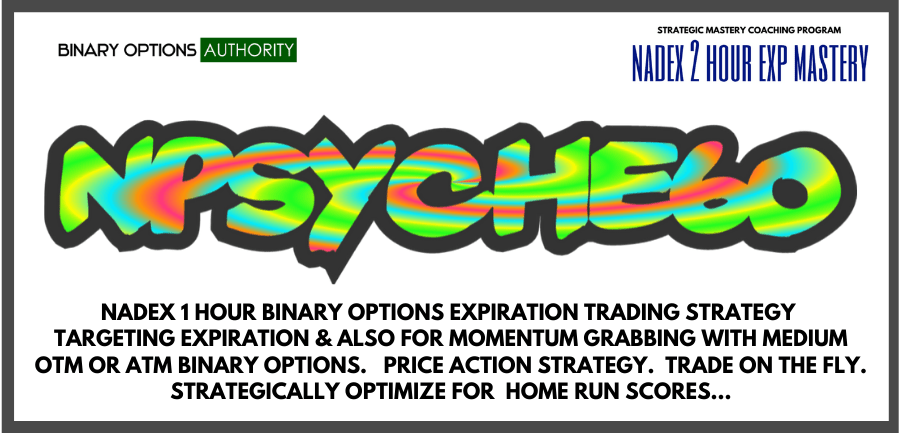 Why Trade the NPSYCHE60 NADEX 2/1 Hour Expiration Strategy & System?  
It's a Stable, Solid, Easy to Trade Approach for the NADEX 1 Hour till Expiration Binary Options that Could Quite Possibly be that Way that Clicks for You if Your Looking for a Way to Make a Living from the Markets.
Yes You Could Even Use for Spreads.  The Strategy Makes a Lot of Market Place Sense Too.  And Maybe You Could Work Your Way up to $20,000 a Week Weekly Paychecks – See System Performance Sample Below…
Look Ma! No Hands!  Learn to Trade PURE Price Action – Impress All Your Friends Including Your Ma'! 
All you need to do is look at a price chart and you'll now know what to do.
YM 3 MIN BARS NPSYCHE60 Performance Sample:
Easy to trade.

High probable strategy.   Can use in combinations with other strategies.

Trade on the fly.  Trade whenever you want.  Trade from home. Trade from your laptop or cell phone.

Trade as a system which means do all the NPSYCHE60 trades in a row for potential consistent and robust cash flow.

or Trade as a Strategy whenever you want, strategically, targeting the most sweet spot opportunities.


1 Hour / 2 Hour NADEX binaries although we target the 1 hour left to expiration.

Potential to trade for a robust living.

Nice easy pace trading these 3 min bars

Opportunities are easy to spot.

Performance sample is taken when NPSYCHE60 is run as a system meaning taking every set up in a row without optimization. 
NPSYCHE60
WWLWWLWWLWWWWW
3 L 11 W
8 W NET ~ $400 on 10 contracts
FEB 19
NPSYCHE60
WWWWLLWWWWWLLWWWW
4 L 13 W  Net 9 ~ $450 on 10 contracts
FEB 18
NPSYCHE60
WLWWWWWLLWWLWWW
4 L 11 W ~ $350 on 10 contracts
NET 7
FEB 14
NPSYCHE60
WLWLWWWWWWWLWWWWW
3 L 14 W
NET 10  ~ $500 on 10 contracts
FEB 13
NPSYCHE60
WLWWLWWLWWLWWLLWLL
8 L 10 W
FEB 12 ~ $600 on 10 contracts
NPSYCHE60
WWWLLWWWLWLWWLWWWW
5 L 13 W
NET 8  ~ $400 on 10 contracts
NET ON ALL DAYS: 72 WINS 27 L = NET 45 IN 6 DAYS  = $2,250 on 10 Contracts and  = $22,500 NET Profit 100 CONTRACTS 1 Week plus 1 Day Paycheck.
Put the power of NPSYCHE60 to work for you as a high probability strategy or as a system.
$1997