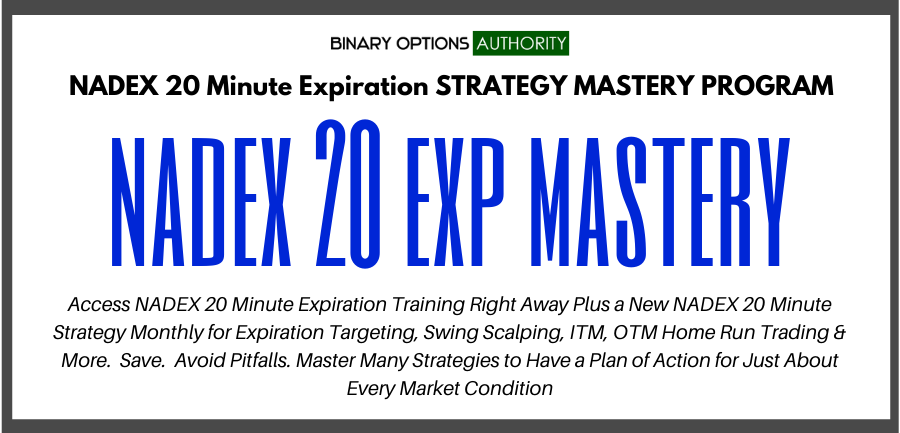 Join the NADEX 20 Minute Expiration MASTERY Training Program for Strategy Mastery & Inner Game Mastery for the Sake of Continually Increasing Accuracy All the Way to for the Goal of Becoming a Dominant, High Percentage Winning Trader on a Consistent Basis...
The NADEX 20 Minute Expiration MASTERS Program provides you a long, medium and short term plan for getting better and better at trading the NADEX 20 Minute Expiration. Learn how to start to start trading smarter for profiting more & more right away, while learning how to avoid pitfalls better and better.
Why would you join this program? For the pursuit of the Mastery of the 20 minutes expiration while also learning how to better Master yourself while trading the 20 minutes expiration.  The goal is for you to get to a point that's equivalent to "making money on command" whereas you can pin point and pick the best trades with a very high level of accuracy.

Learn how to master strategy upon strategy in order to gain the ability put yourself in highly probable positions for profiting at just about every move that price action makes on a price chart overtime.
What we are looking to do is have you master our proprietary trading strategies that we have designed for the NADEX 20 Minute Expiration so you can stack and overlap them thereby giving you many different ways to profit at all times. Also by having Mastery of so many price action strategies you will have more and more clarity about price action so you can know the difference between a highly probable winning opportunity and a mediocre trading opportunity to avoid.
Our goal for you is to become so good at trading the NADEX 20 Minute Expiration that you are able to average five figures a day on up. And then take that money and compound it with our money management position sizing approaches.
Watch the video below for details.
Learn how to master the NADEX 20 Minute Binary Options Expiration.

Learn strategy after strategy month after month until you master it, until you own it.

Access NADEX 20 Minute Expiration Training Right Away Plus a New NADEX 20 Minute Strategy Monthly for Expiration, Swing Scalping, ITM, OTM Home Run Trading & More.

Save. Save a lot of money versus products as sold individually if they are even sold individually.

Access strategies that you may not have access from the rest of our site.

Receive some of our hidden treasure stash strategies that we probably wouldn't have published.

Access new breakthrough NADEX 20 Minute Binary Options Expiration strategies as we make new breakthroughs on a regular basis.

Avoid Pitfalls. Discover pitfalls to avoid that are hidden and only experienced traders, trading educators and trading systems developers would know.

Master Many Strategies to Have a Plan of Action for Just About Every Market Condition.

Become so good at the NADEX 20 Minute Binary Options Expiration that you have the ability to just about come into the market at any time and pull cash out of the markets "on demand".

Accumulate these strategies but also put them to work immediately on to mastery. We will teach you how to master these strategies and how to use smart trading business math and position sizing.

We will teach you how to develop your own trading businesses making those trading business is better than any business you can imagine that's out there.

Access really good stuff! Access Cutting Edge strategies that have evolved ever since 2009 meaning you get an incredible depth of experience and development behind These strategies.

Get started. Dive In. The strategies and content will be digestible and doable each month so you can master the strategy to the point where you own it and can use it on command the rest of your life.

Sign up below. You can manage your subscription from the members area to stop or restart at any time so no worries.

Click the add the cart button to get started.
So we have this awesome new program called the NADEX 20 Minute Expiration MASTERY Coaching Program that is designed the conquer the the NADEX 20 Minute Expiration from every which angle giving you eventually endless ways of profiting off of the NADEX 20 Minute Expiration binary option.
But wait there's more! Did you know that there's an actual 20-minute price action cycle?
See, what you're also going to learn is that by mastering this 20-minute price cycle you're going to be able to take advantage of other forms of trading or day trading in many different ways - such as forex day trading, stock day trading, and e-mini trading or emini Futures day trading.
So you're going to learn skills you can use for life whether that be in binary options or regular day trading to become a potentially incredibly powerful day trader who always has a way of producing profit cash flow for yourself.
So Learn How to Master the NADEX 20 Minute Binary Options Expiration & the 20 Minute Price Cycle for Other Day Trading.  Get started now.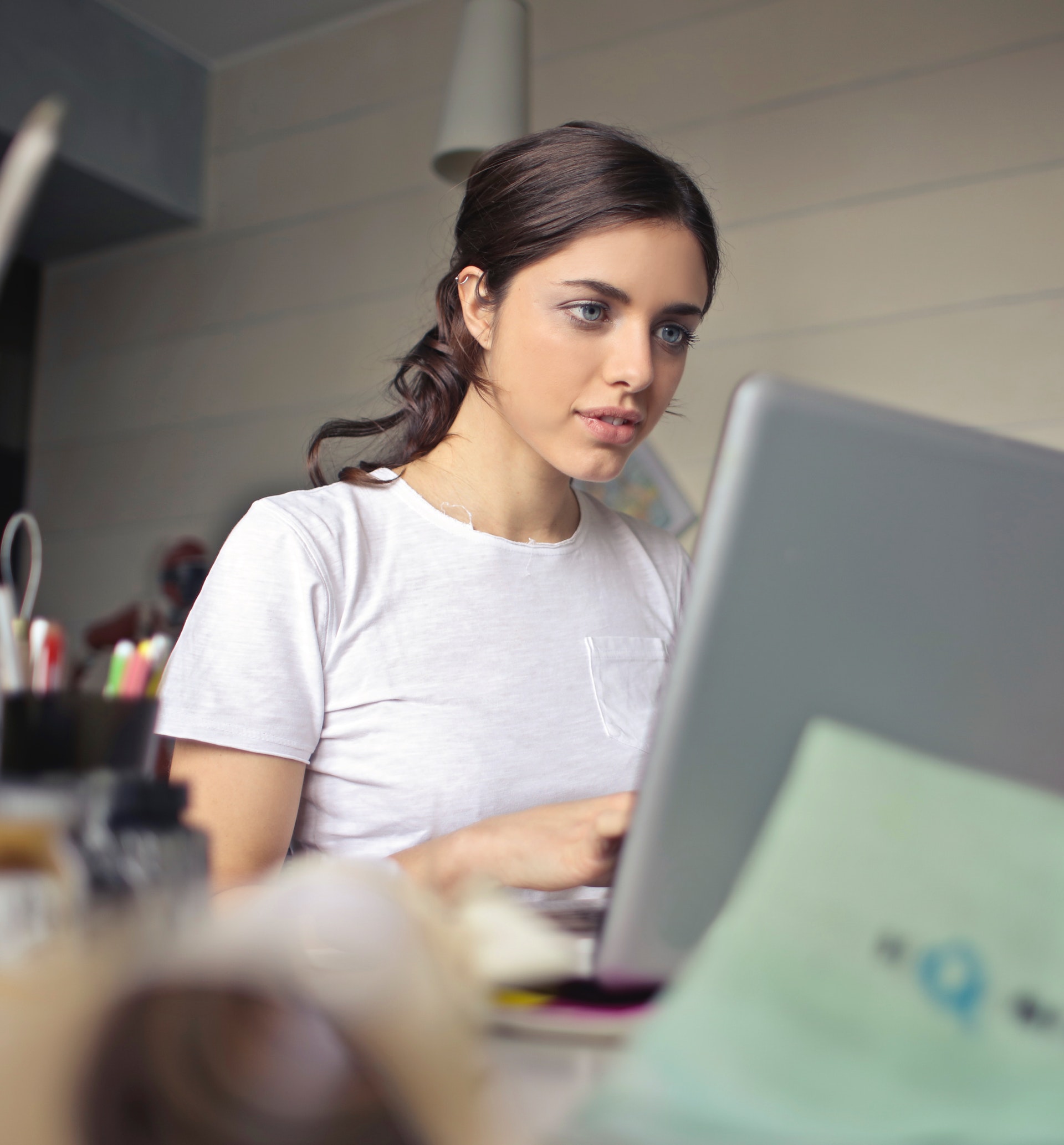 Why the NADEX 20 Minute Expiration MASTERY Coaching Program versus the main Binary Options MASTERY coaching program?
Well in the main program we're going to cover all sorts of different strategies that may include some 20-minute expiration strategies but it's not focused on the 20-minute expiration because we will also be looking at different expirations and spreads as well.
So in this NADEX 20 Minute Expiration MASTERY Coaching Program we will be focused on the 20-minute expiration only so if that's the expiration you want to conquer then join this program
Click the Add to Cart Button Below to Get Started!!
$297/mo  But for first so many (exact # TBD) $97.77/mo and you can lock that in.
Look. If we have the ability to turn you into a 5 figure a day trader, don't think we're going to be keeping this at $97/mo for long. Recurring Membership management billing is managed entirely by you in your back office so you can stop, cancel your membership at anytime.
Just to be clear: You'll get a certain set of courses and strategies plus new content each month in terms of strategies, action plans and whatever else we can do to MAKE you become a super successful trader. Your access to content will be available as long as you are a member. So enjoy the program. We think that we just maybe ... able to help you make that break through you're looking for as we push you towards becoming one of the world's great traders, even starting with binary options. 60-day money back guarantee. You can cancel at any time in your members back office.

Recurring Membership management billing is managed entirely by you in your back office so you can stop, cancel your membership at anytime. RECURRING BILLING FOR MEMBERSHIPS, TRADING SIGNALS TERMS: If you are signing up for a membership that has monthly billing or any other type of billing that is recurring it is your responsibility to cancel your membership from your members back office. You can do so by logging in, going to Payments/ Access menu button, finding your order and then click on stop recurring. We do not handle cancellation request. You will be responsible for canceling your membership before re billing if you want to cancel. We will not cancel for you. We will not go back and refund your order because you forgot to cancel ahead of time. On the other hand, providing you the ability to manage your own membership gives you the control and advantage as a consumer so you don't have to worry and you can cancel at anytime you want.