DAYTRIPPER2 NADEX DAILY Binary Options MICRO SWING TRADING System
PERPETUAL CASHFLOWING NADEX DAILY BINARY FOR MORE LAID BACK NADEX BINARY OPTIONS TRADING
DAYTRIPPER2 NADEX DAILY Binary Options MICRO SWING TRADING System gives you a casual way to trade on the micro swing level. Micro swing level? Micro swing Trading bars that are less than day bars but are bigger than day trading bars. We're going to focus usually on the 60 Minute bars. So why would you trade the system?
Well for those of you who want moderate trading action where you can kind of just glanced over to your computer here and there throughout the day then this is a type of system for you.
Below you can see 4 weeks of systems performance. That's July 15th 2019 to August 8th 2019. You can see that the system is quite solid and for some people this way to go for making money. So let's just say you traded 10 contracts per position which is quite normal. That could be $5,500 a month extra income in correlation with that performance record you see below. If you traded a hundred contracts they need to be looking at $55,000 a month's income which is better. The amount you trade will be relative to your account size and if you're not there at 100 contracts then you can just simply work up to that point and then maybe you can trade 200 contracts then 300 then a thousand contracts per trade which would then put you at $550,000 a month.
A lot of people don't want to get into intense day trading where you have to perform Like a Warrior all day or even just a few hours a day. If you do want to battle it out with the markets at the five minute binary options expirations and the 20 minute binary options expirations, well we have lots of systems for you from which you can potentially achieve extraordinary profits. But maybe that's not for you if you're looking at this system.
But as we noticed overtime what's important for trading success is not only just the trading system but a trading system that fits the trader, which is you. You need something that's going to fit your trading goals and lifestyle goals. So this system may be ideal for you if you're looking again for laid-back way of trading that you can do throughout the day with just a glance here in there to check and see if you have an order.
All trades are at the money (ATM) taking to expiration from entry point so you don't have to worry about watching for the exit. You don't have to worry about stopping out or taking profits early. I mean you can if you want. But all you need to do is put on your trade and let the trade go to expiration.
Performance:
For NQ US TECH 100
LWWWWLWWWWWWLWWWLWWLW
5L 16 W NET 11
JULY 15 TO AUG 8
You Want to Start Seeing Lots of Emails Like This: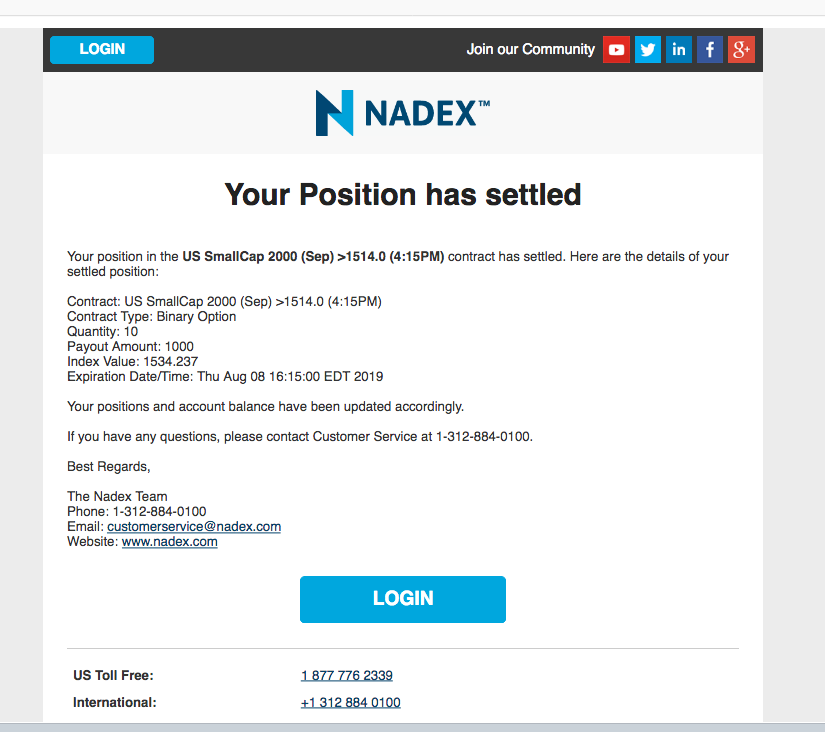 And with a systematic plan, it's possible, in fact, probable!

Trades NADEX Daily Binaries

Low Management vs. Day Trading the 20s, 5s & 2Hrs

Fun to Trade

Uses Cash Index to Give Us Triggers for Futures so You Need Real Time Data

You Can Use to Swing Trade the Daily Binary or Rather "Micro Swing Trade"

Uses the 60 Minute Bars

Since NADEX Daily Binaries Open the Day Before You Can Get In Early or Capture Overnight Big Moves

Deltas on NADEX Daily Binaries Are Quite Good! This Means that You Don't Need a Lot of Points to Turn a Binary from 15 to 60 or 70 or all the way to Expire at 100

You Can Use ATM Binaries or OTM for Expiration or to Just Capture that Big Overnight and USA Open Move and Cash Out

Often We Get More than One Opportunity for a Big Score in a Day

This is a Fun System and Many Could Really Like Trading It, Especially if You Like Making Money in a More Laid Back Way

Get Started! Learn ! Add This System to Your Arsenal & Your Ability to Trade the NADEX Daily Binaries!