Binary Options Day Trading Signals – What's Available?
Binary Options Day Trading Signals – What Are Some Good Ones?
(Short cut for Binary Options Day Trading Signals Here)
Binary Options Day Trading Signals Which ones are our binary options Day Trading Signals: Now we're on binaryoptionsauthority.com.
And we separated out the binary options signals off of the best trading signals .net because certain ad platforms have some strange problems with binary options. And so we put them here. We just do different things here.
.And as you can see right on the front page, we have a different style of day trading signals. Right now, we're focused on time efficiency and convenience, meaning we have a one-day trade, we put on the trade the day before and either let it go to expiration or we glance at the NADEX platform, maybe, you know, once an hour or something to see what's going on.
And if you have a profit or you hit the other range of the spread on the profitable side, then you can take the money and run it and cash out early. So that's important these days. At least to the point of this recording, we're getting a lot of strange price action as the global financial system does its changeover.
Okay, so therefore, you're getting a lot of back and forth between the days, intraday, a lot of confusion, so you're getting a lot of back and forth and hitting your profitable side. Just take the money and go when you've got it if you're watching.
Let's look
Right, you can take a spread signal, and you can also use it to trade and in the money or an out-of-money binary. And you can look to take the momentum, ride the momentum, and cash out for a high percentage gain and a high percentage profit, or you can let it go to expiration if it looks good to do so.
Alright, so otherwise, for the binary options, the trading signals, this is what we have officially, although, like I said, you can take DOPETUALPOPS and OCTPETUALPOPS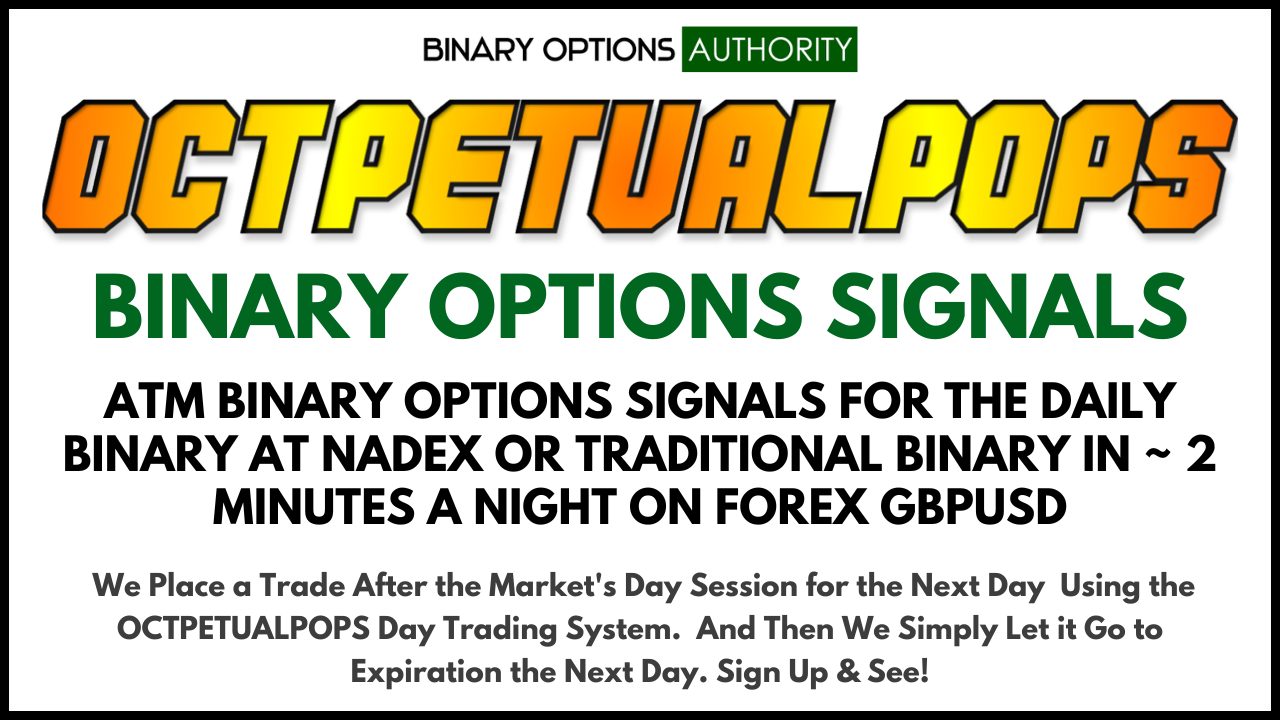 We have several NADEX spreads signals as you can see here:
NADEX Signals – NADEX Trading Signals
So so you can see, and hopefully, I don't know your approach to trading signals but hopefully you can use the signals as trading ideas and combine the signals with your own ideas and experience. And maybe the signal service can keep you focused and keep you in the game. And maybe you can use your own optimizations as well. And just that can be very beneficial.
When I used signals services in the past, I wouldn't necessarily take all their signals, but I would take user signals just to kind of help keep me keep focused and give me trading ideas which would help me refine my own ideas.  And that was valuable and very profitable. And then I evaluate them against my other optimization concepts and go from there. You can do whatever. Alright, so you can check out more information on these binary options Day Trading Signals, just from the front page here, and we have a link.